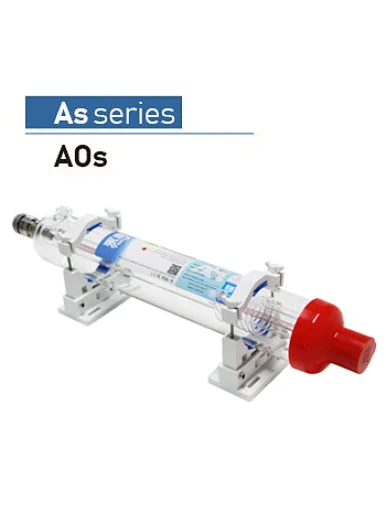 A0s
FLANGE design
German Schott Glass, US II-VI Infrared Optics(As Series).
High Response Time
Excellent Beam Size
Minimum order quantity:
1 piece
Supply Ability:
50piece / Day
US $230.00 - US $260.00
/ piece
Yongli's 30W CO2 laser tube A0s is designed for marking or engraving jobs on organic materials, such as wood, acrylic, fabric and rubber etc.
Yongli As series laser tubes apply our own patented technology to modify the size and mode of the A0s  laser beam, effectively resolving the beam distortion and increasing the beam density.

Due to the high response time and sound beam quality, Yongli A0s has been widely used in engraving and marking laser machines. 
Additionally, the A0s laser tube has also been applied in the medical cosmetology and the garment industry and owned a great reputation for skin treatment and single-layer fabric cutting.
The laser cutting ability for A0s is limited, it will be only processable on thin materials, for instance, papers or plastic films.
 

Yongli

 

A0s 

CO2 Laser Tube

 

Rated Power 
 28W
Peak Power 
 35W
Length 
 600mm
Red Point Indicator
Optional
Working Current 
 20mA
Recommend Working Current 
16mA
Ignition Voltage 
12kV
Working Voltage 
 8kV
Outer Diameter 
 80mm
Working Life 
 6000 Hours
Warranty 
 6 Months
Catalyst 
 YES 
For your questions or concerns, please don't be hesitate to contact either our pre-sale service online or any account manager you familiar with