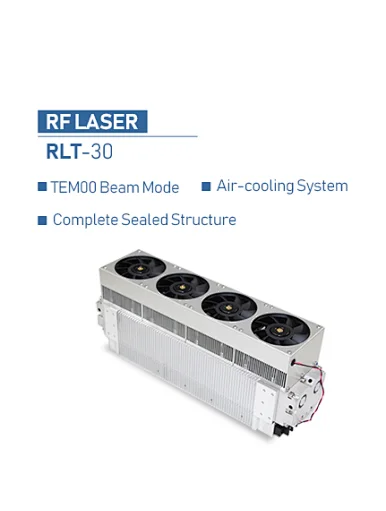 RLT-30
TEM00 Beam Mode
High Response Time
Complete Sealed Structure
Air-cooled Cooling System
Maintenance Free
Compact Size
Minimum order quantity:
1 piece
Supply Ability:
30piece / Day
US $995.00 - US $1050.00
/ piece
CO2 glass laser tube has its boundaries on beam mode and beam size. However, within certain laser processing areas, the TEM00 mode laser beam and high-frequency response are essential. With regard to such a market, Yongli developed and manufactured the RF laser tube - RLT-30. 
Yongli 30W CO2 metal tubes were released to the global market in 2017. In the past years, our 30W RF CO2 laser tubes have been widely equipped onto RF laser marking machines, and fractional medical devices and have also been applied as a laser source of high precision laser etching or engraving jobs.
RLT-30 CO2 RF laser tubes gain great reputations for their long working lifespan, TEM00 beam and marvellous high-frequency and pulse performance.  Yongli 30W metal tubes applied our unique discharge plate polishing techniques, Z - shape RF excitation path and the best gas mixing ratio. The manufacturing processes for RLT-30 are international criterion-referenced.

For fractional usage, precise marking or engraving, Yongli RLT-30 RF laser tube is a reliable CO2 laser source according to its stability and beam quality.  
System Performance Indication

Model

RLT-30

RLT-30i

Wavelength

10.6μm

9.3μm

Continuous Rated Power

30W

25W

Power Stability

±5%

Mode Quality

M2 < 1.2

Beam Diameter

1.8±0.2mm

Beam Divergence Angle

7.5±0.5m Full Radian Angle

Polarization

Linear polarization (>100:1) Parallel to the width direction

Operating Freq. & Duty Cycle

0~25KHZ & 0~100%DC

Specifications & Conditions

Weight

6.2Kg

Size (L x W x H)

357×92.5×142mm3

Input Voltage

48DV±2%, Max-average current 12A, Requires the power supply to withstand peak current 18A, not less than 1ms。

Heat Load

< 575W

Maximum Case Temperature

< 60 °C (140 °F)

Ambient Temperature at Work

15~40 °C (59~104 °F)

Operating Altitude

< 2000m (6,500ft.)

Working Humidity

Non-condensing

Shipping and Storage Environments

-10~60 °C (14~140 °F)
1) Laser power is measured at a laser temperature under 25 ° C, when the temperature goes up to over 25 ° C,  per 1 ° C output power will drop by about 1%.
2) Stability test conditions: In the normal operating environment, pre-heat the laser for 10 minutes and constant control the duty cycle.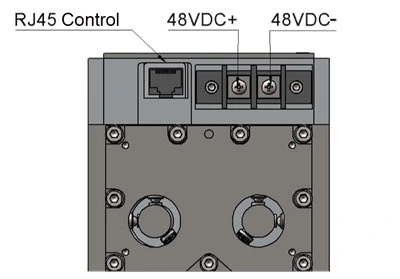 Signal Interface PIN Definition
Pins

568B Standard Ethernet Cable Wiring

Signal Description

1

White / Orange

RF-enabled: PWM signal input.

2

Orange

Voltage output + 15 ± 0.5 VDC, the maximum current is 0.25 amps

3

White / Green

Laser status: TTL logic output;

1 = laser normal, 0 = laser failure;

4

Blue

Temperature status: TTL logic output;

1 = normal temperature, 0 = Over temperature; when the shell temperature above 60 ℃ output is invalid. Below 60 ℃ is normal.

5

White / Blue

Power supply voltage status: TTL logic output;

1 = voltage is normal, 0 = voltage exception; output is active when 44VDC

6

Green

NC

7

White / Brown

Control enabled, TTL logic input;

1 = laser control on, 0 = laser control off;

This input must be activated before turning on the RF laser.

8

Brown

Ground

NOTE: 

1. Interface type: RJ-45

2. Control board single signal input: Pin1-PWM signal, Pin8-Ground, Pin3 & Pin7 short connect.

3. Without control board test: Pin1, 3 & 7 short connect also can emit laser beam (Max Output).